T-L Irrigation Company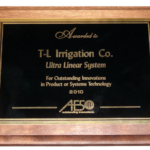 T-L Irrigation Co. receives the 2010 AE50 Award
T-L Irrigation Co., the manufacturer of hydrostatically powered pivot irrigation systems, was recently recognized by the American Society of Agricultural and Biological Engineers for the development of their
"ULTRA Linear System". 
The 
ULTRA Linear System 
was deemed one of the year's most innovative designs in engineering products or systems for the food and agriculture industries. The ULTRA Linear System maximizes irrigated areas by using one machine. It can operate in either linear or pivot modes and can be towed to different fields, allowing maximum flexibility for the end user. When combined with the T-L's exclusive hydrostatically-powered drive train and their
 Precision Linear Control
 the ULTRA Linear achieves maximum water distribution uniformity. This is the second AE50 award earned by T-L Irrigation Co. In 2008 T-L won for the development of their "
Precision Linear Control System".
Companies from around the world submit entries to the annual AE50 competition and up to 50 of the best products are chosen by a panel of international engineering experts. The judges select products that will best advance engineering for the food and agriculture industries. The ASABE is an educational and scientific organization dedicated to the advancement of engineering and technology for sustainable agricultural, food, and biological systems. It was founded in 1907 and had over 9,000 members in 100 countries.